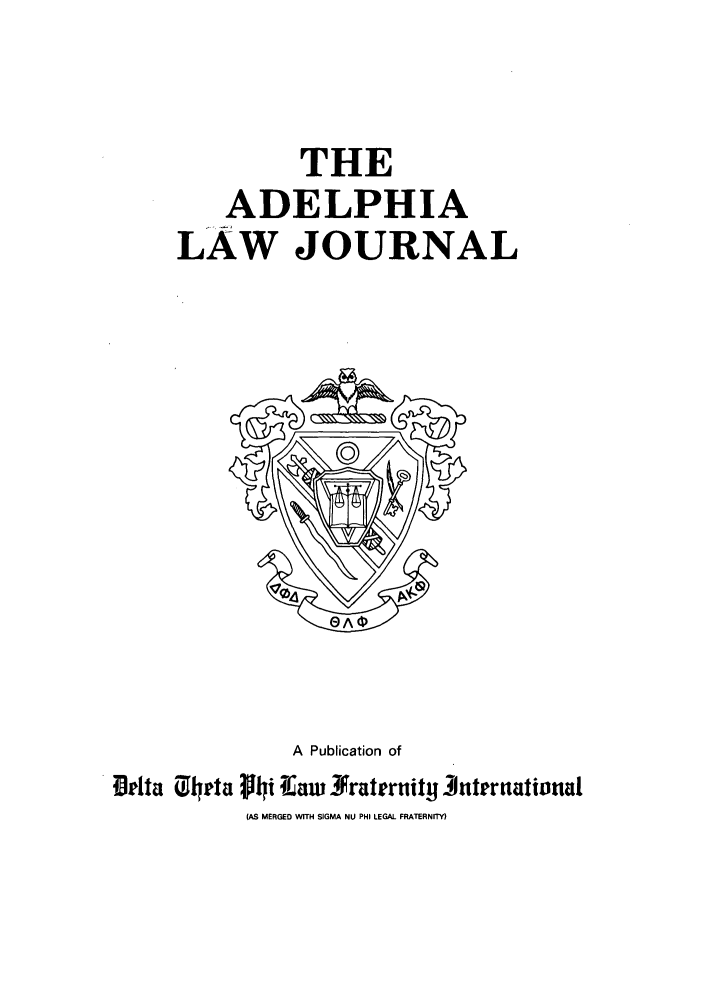 THE ADELPHIA LAW JOURNAL
Delta Theta Phi is the only law fraternity in the world which publishes its own authoritatively recognized law review.  The Adelphia Law Journal is a cooperative enterprise intended to serve the local senates of Delta Theta Phi, the fraternity, and the legal community in general.  The journal was created in 1981 by Sigma Nu Phi Legal Fraternity which recognized the need to place the organization on a larger, national scale with more focus and attention given to the legal profession.  Delta Theta Phi Merged with Sigma Nu Phi in 1989.
The Adelphia strives to attain these goals through the publication of articles, notes, and commentaries reflecting both legal analysis and literary expression; and, as a reflection of its accomplishments, was in 1985 accepted by the Index to Legal Periodicals as well as other similar indexes, reference guides and authorities.  By providing a forum for legal creativity, continues to advance legal scholarship and aids in the educational and professional development of those who participate. 
The Adelphia Law Journal has been recognized by prominent Congressional leaders, the Index to Legal Periodicals, and in press releases. Every year, the National Editorial Board of the Adelphia chooses a student senate from among those which apply to undertake the rigorous challenge of editing and publishing that years' issue of the review.  Once chosen, the senate is committed to extensive editorial review, proof-reading, and cite-checking of all submissions.
Every member of Delta Theta Phi is eligible to submit material for possible publication in The Adelphia Law Journal! Submissions should explore legal topics of a national or international interest. 
For Questions About The Adelphia, including information on the content of past volumes of The Adelphia Law Journal, or for information regarding your existing or new subscription contact the International Office.